Handcrafted Back to School Essentials and more!
The popular online store Hyena Cart – which specializes in handcrafted products made by more than 1,000 active sellers, most of them "mompreneurs" –has expanded its offering of a variety of quality, handmade items that are just right for back-to-school shopping – such as pencil pouches, lunch bags and learning aids for use at home.
Fusion offers the Alphabet Soup Reusable Sandwich Bag, in addition to reusable snack bags, sandwich wraps and napkins. They are practical and environmentally-responsible solutions for packing school lunches.
The bags and wraps are lined with food-safe, rip-stop nylon with 100-percent cotton fabric on the outside. They can be wiped clean with a damp cloth or washed on cold and line dried. The hook and loop closures help keep food fresh until lunchtime.
The School Essentials Scooter Zippered Bag by Zoe's Bag Boutique offers many uses, including organizing school essentials. It also makes an excellent teacher's gift at the end of the school year.
Butterfly Pip Pack – Pencil Pouch by Alma's Chicks is a handy way for young scholars to carry not just pencils, but also scissors, glue sticks and all other school supplies. It features a colorful cotton print back with a mesh front that reveals what's inside. The high quality zipper and large pull make it easy to open.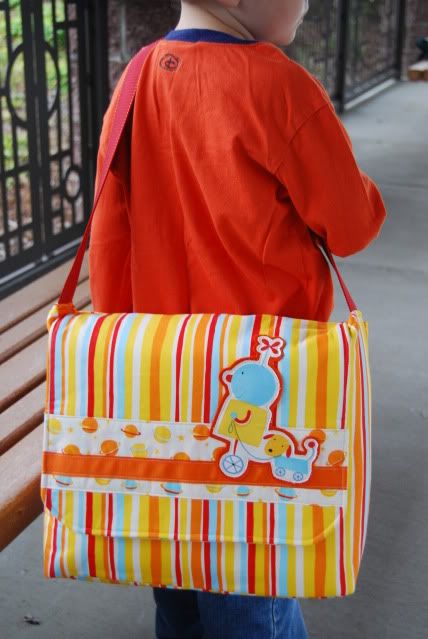 The Little Buddy Child-Sized Messenger Bag pattern by Wired Up Designs includes easy-to-follow instructions with photos for making a well-designed bag for children to carry to school. The pattern includes plans for a matching pencil case. Wired Up Designs offers original purchasers of the pattern permission to sew and sell up to 50 sets of the messenger bag and pencil case when giving credit as specified to Wired Up Designs.
The Back to School Bow by Beausoleils Bows helps make the first day of school even more special for preschoolers and kindergarteners. It features a yellow ribbon with pencils and a small striped bow, blue confetti ribbon and a button in the center.
Parents can use Grimm's Number Cards by Kiya's Naturals at home to help their children learn their numbers and beginning math skills. These 64 beautifully illustrated cards help children count by 10s and 20s, add, and play with numbers.
The Robot Chalkboard Roll by Envy … Be Green is a convenient, portable way for young artists to create on road trips or to use for paperless homeschooling work. When the work is done, it neatly rolls up, secured by a ribbon. It comes with an eraser and two slots for storing chalk.
About Hyena Cart
Hyena Cart is an online shopping website that has grown to incorporate more than 1,000 active sellers offering a variety of natural, eco-friendly products. Most of the sellers are moms, known as "mompreneurs," who operate their own online businesses using the Hyena Cart platform to facilitate online shopping. The most popular seller categories include cloth diapers, clothing, hand-knit items, hand-dyed yarn and toys, in addition to specialty handcrafted items for everyday giving and special occasions.
For more information about Hyena Cart, visit http://www.hyenacart.com.